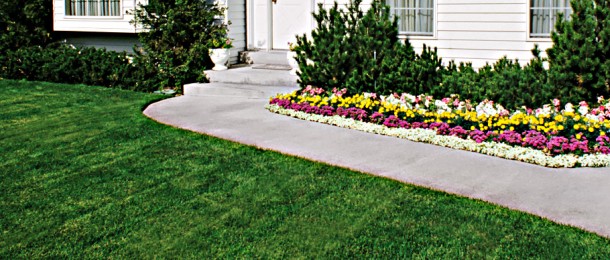 Our Weed Control & Fertilization plan is a multi-step program designed to make sure your lawn is healthy and green. Every program is custom to your lawn and works all year long – from Spring to Winter. Weed control, fertilization and quality customer service are all key ingredients that make this program a success. If you have any weed troubles in-between applications, let us know and we'll take care of them at no charge.
The Weed Control & Fertilization Plan Includes:
Fertilization
The right balance of Nitrogen, Phosphorus, and Potassium to make your lawn thick, green and healthy.
100% Weed Control Between Applications
We always leave proper watering and mowing instructions with each application. Aside from paying the bill, the only thing we ask is that our customers read the instructions – they change throughout the year and can be a big part of keeping your lawn healthy.
Constant Monitoring
Up to four Pre-Emergent and Post-Emergent applications to control existing weed problems and prevent future weeds from germinating. Grassy weeds like Crabgrass and Dallisgrass and sedges like Nutsedge are included with the annual program, up to 1000 sq ft. Lawns with more than 1000 sq ft of weeds will have to pay for additional Grassy Weed Control applications.
Lawn-Destroying Insect Control
These insect actually feed on your lawn. Your annual service includes curative applications of insecticide to control actively feeding insects such as grubs and chinch bugs. Need more insect control? Need help with fire ants or grubs? Learn more about our Fire Ant Control and Grub Worm Control.
Lawn Disease Control
Your annual program includes curative applications of Fungicide for active diseases like BROWN PATCH and GREY LEAF SPOT.
Agronomic Programs
This customized program consists of seven steps, done every six weeks. Each application is designed to provide the agronomically formulated nutrients and protection your lawn needs to thrive here in the DFW Metroplex.
Quality Service Guarantee
If you are not completely satisfied with our service, we will make it right. We'll accomplish this at no charge to you.
Application Schedule:
Early Spring
Pre/Post Emergent Weed Control and Fertilization
Late Spring
Pre/Post Emergent Weed Control and Fertilization
Early Summer
Fertilization and Spot Treat Weeds
Late Summer
Fertilization and Spot Treat Weeds
Early Fall
Fertilization and Spot Treat Weeds
Late Fall
Pre/Post-Emergent Weed Control and Fertilization
Winter
Pre/Post-Emergent Weed Control and Fertilization