Next Door Know-How
Apr 25, 2016
Comments Off

on Great Tips: Keep a Lush Lawn Without Wasting Water
Application Info
Apr 09, 2016
Comments Off

on 2016 Lawn Application Round 3
Summer Weed Control
Summer is quickly approaching and that means it's time to start planning for summer weed control and fertilization. Round 3 will see us applying a granular fertilization and treating for weeds that love heat and moisture, like nutgrass. If you are starting to see nutgrass or any other weeds showing up, please don't hesitate to give us a call so we can make sure to treat them when we stop by!
This early warm weather has also meant that one of our most stubborn and problematic weeds has gotten an early start. Dallisgrass is a very common problem in North Texas and can often require extra applications to fully eliminate from your lawn. As part of Round 3, we'll be treating for this problematic weed, but if your lawn has a high amount of Dallisgrass, we will contact you directly to talk about any additional treatments that might be needed to make sure your lawn is as healthy as it can be.
Our Best Tool For a Healthy Lawn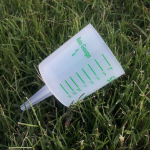 Every year, during Round 3, we distribute the Simply Greener Rain Gauge so you can calibrate your watering devices. Whether you have a sprinkler system or you simply water by hose, knowing exactly how much water you put on your lawn is very important.
As always, we'll leave directions for any follow up lawn care steps and we look forward to helping to keep your lawn simply greener.
Application Info
Mar 21, 2016
Comments Off

on 2016 Lawn Application Round 2
As we quickly roll into March this year, you'll start to see some new color in your lawn – green! There's a good chance the green you see might be seeing is our team beginning our second application of the year, but it will also be the first of your beautiful summer lawn beginning to peak out. This application will focus on cool season weeds like chickweed, and clover as well as some of our first warm season weeds like crabgrass.
If you see us around, feel free to ask us any questions you might have! As always, we'll leave directions for any follow up lawn care steps and we look forward to helping to keep your lawn simply greener.
Application Info
Feb 07, 2016
Comments Off

on We're glad you're part of our family this year!
We want to start 2016 by saying thanks to all our friends and family!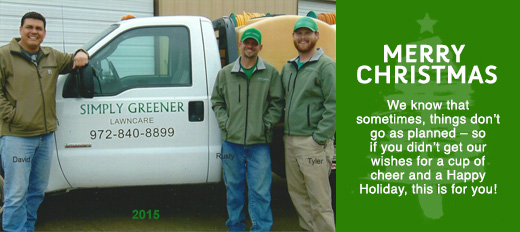 Friends and Family Save 7%
If you haven't already, as a valued customer of Simply Greener, you can prepay your service for 2016 and receive a 7% discount. Hurry – this offer ends 02/15/16!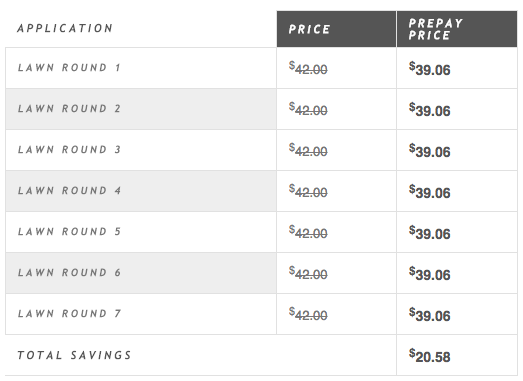 Prepayment is of course, optional. If you choose, you can pay per application. If there are any applications or services you wish to ADD or DELETE, please call our office at 972-840-8899 or send us an email. We will begin service in February.
Simply Greener lawn care is a locally owned and operated lawn care and maintenance service that is dedicated to keeping your lawn beautiful. We pride ourselves on our professional service, personalized care, and out results are always guaranteed!
---
Request a Free Quote and you'll hear from us lickety-split, usually in a few hours!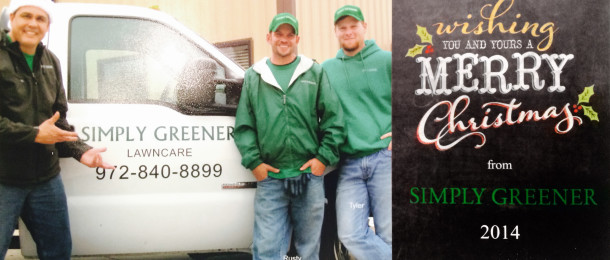 Next Door Know-How
Dec 23, 2014
Comments Off

on Merry Christmas from Simply Greener Lawn!
As another year draws to a close, we value the opportunity to count our blessings and appreciate all the things that are truly important. So, to each and every one of our customers who allow us to serve you, we'd like to say, "Merry Christmas and thank you!"