Application Info
Mar 21, 2016
Comments Off

on 2016 Lawn Application Round 2
As we quickly roll into March this year, you'll start to see some new color in your lawn – green! There's a good chance the green you see might be seeing is our team beginning our second application of the year, but it will also be the first of your beautiful summer lawn beginning to peak out. This application will focus on cool season weeds like chickweed, and clover as well as some of our first warm season weeds like crabgrass.
If you see us around, feel free to ask us any questions you might have! As always, we'll leave directions for any follow up lawn care steps and we look forward to helping to keep your lawn simply greener.
Application Info
Feb 07, 2016
Comments Off

on We're glad you're part of our family this year!
We want to start 2016 by saying thanks to all our friends and family!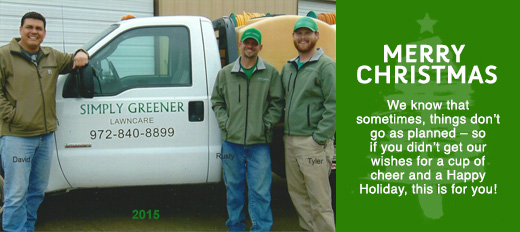 Friends and Family Save 7%
If you haven't already, as a valued customer of Simply Greener, you can prepay your service for 2016 and receive a 7% discount. Hurry – this offer ends 02/15/16!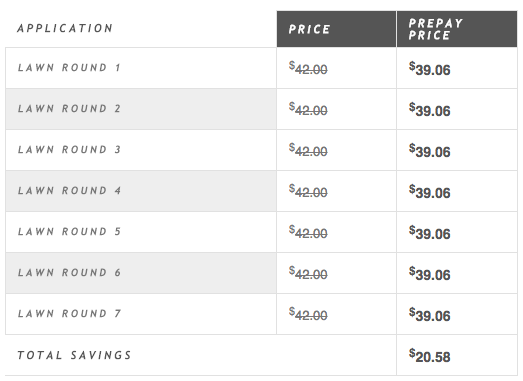 Prepayment is of course, optional. If you choose, you can pay per application. If there are any applications or services you wish to ADD or DELETE, please call our office at 972-840-8899 or send us an email. We will begin service in February.
Simply Greener lawn care is a locally owned and operated lawn care and maintenance service that is dedicated to keeping your lawn beautiful. We pride ourselves on our professional service, personalized care, and out results are always guaranteed!
---
Request a Free Quote and you'll hear from us lickety-split, usually in a few hours!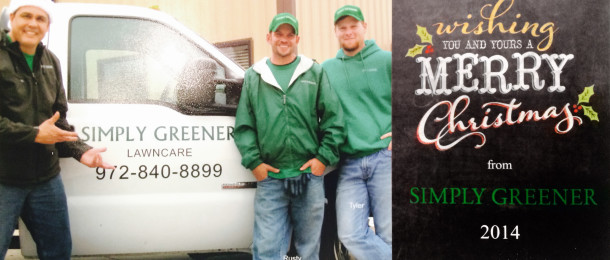 Next Door Know-How
Dec 23, 2014
Comments Off

on Merry Christmas from Simply Greener Lawn!
As another year draws to a close, we value the opportunity to count our blessings and appreciate all the things that are truly important. So, to each and every one of our customers who allow us to serve you, we'd like to say, "Merry Christmas and thank you!"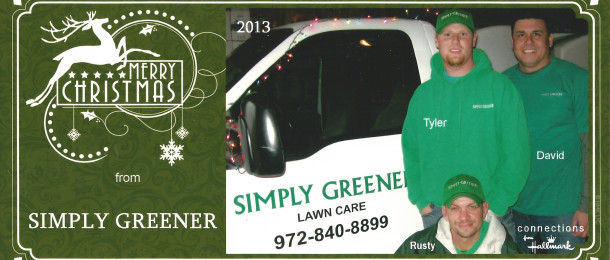 Next Door Know-How
Nov 27, 2013
1 Comment
As this special time of year approaches, we always make a point to try and stop and reflect on the things that are truly important to us. For many of us, that means quality time with our loved ones. But for all of us, it also means counting our blessings, which includes each and every one of our customers. To all of you who allow us to serve you, we say, "Merry Christmas and thank you!"
Next Door Know-How
Feb 14, 2013
Comments Off

on What does this warm February mean for my lawn?
You can't count on much in Texas, except unpredictable weather. This unseasonably warm February, typically the coldest month of the year, is wrecking havoc on our local plants. This warm winter means your lawn is going to come out of dormancy sooner than it usually does…your lawn as well as the weeds. Because of this, it's going to be important to apply pre/post emergent as soon as possible. Good thing we've already started. Once again the pre-emergent is a vital part of keeping your lawn weed free. The sooner you get the pre-emergent down the better.